Valentine's Day is just around the corner and we know how excited you are to send your special someone with a beautiful and romantic gift that will cheer her up on Hearts Day! Together with this excitement is also confusion on choosing the perfect flower or gift for the special occasion. Whether you are sending flowers to your busy wife, or hard-to-impress girlfriend, Modern Petals Cebu is here to help with that crucial decision making process!
Below is a list of our recommended flowers and gifts that you can send to your loved ones in Cebu come Valentine's Day 2023!
1. Bouquet of Roses and Ferrero Chocolates
You will never fail with an all-time classic of red roses, and complement that with the classy Ferrero chocolates! 🙂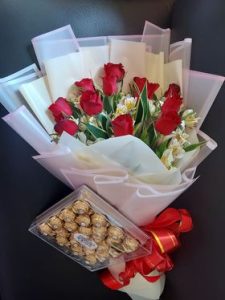 Order Now:
Cute Dimples (36 Fuchsia Pink Roses) – ₱4800      |     Lovable (12 Red Roses, 1 Cute Teddy) – ₱3500

2. Bouquet of Sunflowers
If you have already given her tons of roses in the past, why not try something different with Modern Petals Cebu's bouquet of sunflowers! With our sunflowers bright and vivid colors, it will surely brighten and cheer her day up!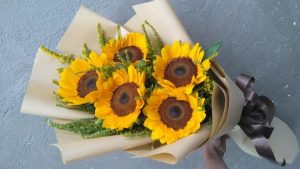 Order Now:
Courage (Sunflower and Red Roses) – ₱4500      |     Sunshine (3 Fresh Sunflowers) – ₱1750

3. Soap Roses
If you are in a tight budget but still want to express your love and let her know how special of a person she is, you can go with our Soap Roses! They may not cost as much, but they come with elegance and simplicity.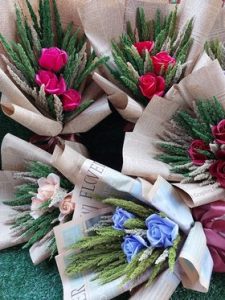 Order Now: Prices at ₱350 and up

4. Preserved Flowers
Our preserved flowers come in sophisticated arrangements and packaging that will surely impress and bring a smile to your special someone this Valentine's Day! Modern Petals Cebu's Preserved Flowers are real flowers that are  meant to last long if not forever.  They are a little pricey but worth it!
Order Now:
Preserved Flowers Products List
5. Teddy Bear
Every gift looks complete with a Teddy Bear! If budget is not a concern, take it up a notch and pair your chosen flower gift with a huge and huggable Teddy Bear that comes in different colors and sizes. Just imagine the surprise of that special someone receiving not just the perfect flowers but also a human-size Teddy bear! 🙂
Order Now:
Love Set (Red Roses, Teddy Bear, Chocolates, Balloons) – ₱8300      |     I'm With You… (Bunch of Flowers, Teddy Bear, Balloon) – ₱1750
There you go! These are our Top 5 Recommendations of flowers and gifts that you can send to your special someone in Cebu this coming Valentine's Day 2023! All of us have struggled in the past several years and have overcame the global pandemic and other challenges, so let us not forget to show appreciation and love to our family, girlfriend, husband or wife, partner and all our loved ones on any special occasion.
From Modern Petals Cebu, we greet you a Happy Valentines Day 2023!